1.Forest Park:-
Dedicated to the chief minister Orissa, the park, spread across 7 acres is located in Bhubaneswar, near governor house.
Timings
7.00am.to 6:30pm
Visit Duration
1 to 2 hours
Address
Biju Patnaik Park(forest Park), Bhubaneswar, Orissa, India
2.Indra Gandhi Park
Indira Gandhi Park is situated in the center of Bhubaneswar, in front of Odisha Secretariat and State Assembly. The park is spread over an area of 10.6 acres of land. It is beautifully decorated with flower gardens and fountains. This place was previously the parade ground of Bhubaneswar city. It was the place where Late Smt. Indira Gandhi had delivered her last public speech on 30th October 1984 and after returning from Odisha was shot dead by her own bodyguards. On her memory, I.G Park was built in this place and was dedicated to the public. The park has a statue of St. Indira Gandhi designed and sculptured by Russian sculptor Mr. Dimitry Ryebachev and Alexander Ryebachev. It is a good spot to spend leisure time. People generally visit the park at evening time. Due to its comfortable location, it has attracted lots of people and it is counted as one of the most popular parks of Bhubaneswar.
Opens All days of the week
9:00 AM - 6:30 PM
3.BDA Nico Park:-




Individual Rides / Attractions / Show Price




Cable Car


–


Rs. 50.00




Flying Saucer


–


Rs. 40.00




Moon Raker


–


Rs. 40.00




River Cave


–


Rs. 70.00




Striking Car


–


Rs. 70.00




Water Chute


–


Rs. 60.00




Water Coaster


–


Rs. 50.00




Roller Coaster


–


Rs. 70.00




Haunted House


–


Rs. 60.00




Dracula


–


Rs. 70.00




Caterpillar


–


Rs. 30.00




Cruiser


–


Rs. 30.00




Twist n Turn


–


Rs. 30.00




Stunt Show


–


Rs. 100.00




Snow Globe


–


Rs. 50.00




Bull


–


Rs. 30.00




NICCO PARK IS OPEN 365 DAYS EXCEPT ON HOLI.
Gate: 10:30 AM to 06:30 PM
Rides : 10:45 AM to 07:30 PM.
4.Jayadev Vatika:-
Jaydev Vatika at Khandagiri is rather unassuming even if it's located closely to two of the most popular tourist destinations i.e., Khandagiri and Udayagiri. But, with better care and strategic promotion, it has immense potential to attract visitors and tourists alike. Ever since its inception in 1992, the government has spent crores on development activities including plantation programs of the park. The park has been named after the legendary poet Jayadev and the project was on the lines of the descriptions of different groves in Jayadev's literary work Gitagovinda. More than Rs 35 lakh was spent for plantation programs in the park between 1991-92 and 1995-96. Also, the OFDC and the Orissa Tourism Development Corporation (OTDC) have spent more than Rs 2 crore for the development of the park as per the description in the scriptures on Ekamra Vana (old Bhubaneswar) and Vrindavana as described in Gitagovinda.
The wonderful vegetation has 128 varieties of plants from Ekamra Vana and 40 from Vrindavana. Also, medicinal plants numbering over 10 lakh have been planted there. The park, which has the status of poet Jayadev and Radha-Krishna, has become a tourist hub for travelers visiting Khandagiri and Udayagiri caves. The patch of forest inside the Jayadev Vatika is of historical value, as it has existed since the time of Kharavela.
How to Get There: The park is located near Khandagiri and Udaygiri Caves.
5.Ekamra Kanan:-
Among the largest parks in the city, Ekamra Kanan is full of greenery with a lot of trees, flower gardens and shrubs filled across its length and breadth of this beautiful park. It is famous for its cactus garden with a huge collection of Cacti that attracts a healthy crowd throughout the year. With an entry fee of Rs 10 per person, the park is an ideal destination for belonging to all age groups. A delight for family-men, couples, kids; it surely is a popular place of interest among the denizens as well as visiting tourists. Spread across a vast area of 512 acres of land and a calming view of a lake beside it, the place is one of the most cost-effective locales where you can spend some quality time with your loved ones. The park also offers boating facilities, stores a pyramidal greenhouse and has playground and swings for children who come here with their parents.
How to Get There: The Park is located in IRC Village, Nayapalli and can be approached either from CRP Square or from Jayadev Vihar side via IRC Village.
6.Budha Jayanti Park:-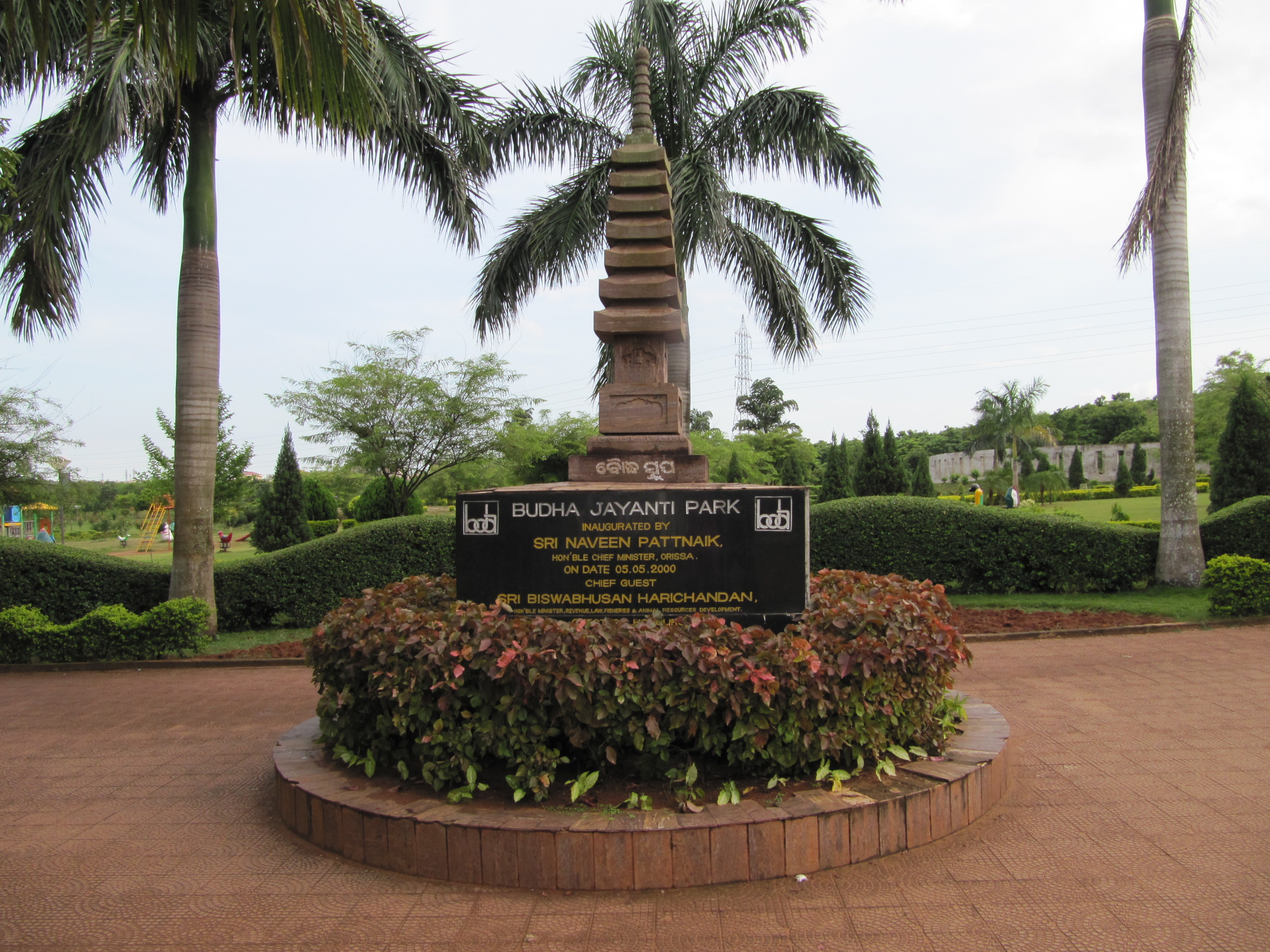 Niladri Vihar, Chandrasekharpur, Bhubaneswar, Odisha 751021
Open now: 5AM–8PM
Google Map For Budha Jayanti park
7.Botanical Garden:-
The State Botanical Garden spread over 173 acres, is situated in the sylvan settings of the moist deciduous forest of the sprawling green Nandankanan Sanctuary jammed between two wetlands Kanjia lake & Kakani lake. It was established in the year 1963, on the edge of the bustling capital city of Bhubaneswar at a distance of 18 kilometers, at Latitude of 20 24 15 N and Longitude of 85 49 30 E, 40 meters above MSL. One would be definitely impressed by nature's symphony and impressed by the exquisite touch of the wilderness here. Here the time ought to pass under the name of calmness. When one look around, he would have the sweet illusion of the rolling landscape being captured in the frame of a scroll. One can enjoy the changing colors of the seasons here. This is one of the pioneering conservation and nature education center of the state. The botanical garden is sure to provide green enthusiasts with memorable
experiences.
Visiting Hours of
Zoological Park & Botanical Garden
---
April to September
(07.30 hrs. to 17.30 hrs.)


October to March
(08.00 hrs. to 17.00 hrs.)
---
Park & Garden Remains
Closed on Every Monday
Google Map For Botanical Garden